---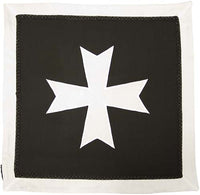 Cotton Cushion with Templar hospitable cross.
The Hospitallers, known officially as "Knights of the Order of the Hospital of St. John of Jerusalem," was founded in Jerusalem during the first Crusade by the Italian friar Gerardo da Sasso to assist the pilgrims travelling the Holy Land. His successor, Raymond du Puy, finished the work with the creation of an armed branch composed of crusader knights. It has been known also as "Knights of Rhodes", and as the "Sovereign Order of the Knights of Malta." It was at first a charitable Order, while the Templars was from the first a military one. With the fall of the Latin kingdom of Jerusalem in 1291, the Knights retired to the island of Rhodes. In 1522 the Turks finally took Rhodes, and the Hospitallers removed to Malta. Here they remained till 1793, when Napoleon took Malta, and added it to the French Republic. This ended it as a sovereign power. While the Knights had to leave Malta, shorn of their old power and great wealth, they still continued on in different countries. The Knights took with them from Malta their precious relics--chief among them being the hand of St. John the Baptist, the miraculous image of Our Lady of Pherlemon, and a fragment of the true cross.
Cotton Cushion with Templar hospitable cross.
Overall Dimension: 49 x 49 cms - 19 x 19 inches